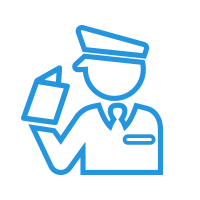 Customs
Customs clearance Switzerland: Your specialist is Gondrand.
Our customs management knows no boundaries. Particularly when it involves customs queries. As one of the leading customs clearance specialists, we are available for our customers 24/7.
Customs clearance is not complicated or time consuming. Provided, that is, your goods have been sent with NTG Gondrand. Regardless of whether it involves classic customs clearance of goods from groupage or full load transport or special customs requirements: our customs specialists are amongst the best in the business thanks to their many years' experience – also for vehicles customs clearance, trade fair clearance and import of art.
We also offer you the personal NTG Gondrand service as a neutral customs clearance agency which ensures your goods are on the move again whilst others are still waiting to be sent.
Private clearance
Trade fair clearance
EU clearance
Neutral customs clearance agency
Veterinary consignment processing
Import of art
Vehicles customs clearance
Skilled and comprehensive advice in all tax and customs matters
Customs clearance for art and projects shipments
Advance import clearance as approved recipient
Customs Consulting / Customs Consulting
Special customs clearance and project customs clearance
Vehicle customs clearance including preparation form 13.20 A
Night clearance for perishable goods
Open customs warehouses (OCW) at all sites
Clearance of foods such as meat, fish and coffee
Special customs clearance for flowers, plants and animals
Customs classification of products not previously registered
Sophisticated clearance control for returns of imported goods
German import and export clearance via Atlas system
Electronic clearance systems (NCTS, SOFI, ATLAS, E-DEC, IDEE)
T1 and TCH (NCTS) Creation
Export customs clearance (export)
Transports and other services available on request